 Scott Drescher
Vice President of Business Development
NMLS#168878
Sam Brock
Senior Mortgage Loan Officer
NMLS#884442
About Highlands Residential Mortgage
Your Family. Your Future. Our Focus.
Highlands Residential Mortgage was created in 2010 in the midst of uncertainty and rapid change in the mortgage industry. A group of like-minded seasoned veterans came together to create a company with an employee-focused culture. A culture that values its members both personally and professionally and a company built on the idea that the customer comes first! We believe Highlands Residential Mortgage is such a place. Our Mission to value people drives everything we do.
Our Story
Highlands Residential Mortgage and the Drescher Team are committed to helping you find the right mortgage product for your needs, documented as easily as possible, processed quickly and closed on time. We value efficiency while taking personal care of your needs. You will have access to all of the loan products that others offer as well as a few that others do not offer, in case you need a specialized mortgage. Most importantly, Scott and Sam take the time to treat you with respect and personal attention that internet lenders and big banks could never hope to offer you.
Some of the advantages of working with Highlands and the Drescher Team are: we shop the lenders and rates so you won't have to; we are a mortgage banker, so we offer fast and easy in-house processing, underwriting (loan approval), closing and funding; we offer conventional, FHA, VA, USDA Rural Housing, bond/down payment assistance programs and renovation mortgages; we offer loans for new construction and existing and offer all these with purchase, refinance and home equity refinancing.
Scott has 30 years of experience as a loan officer, 15 years as an adjunct professor of real estate finance, and he was the 2013 President of the Dallas Mortgage Bankers Association. He has a bachelor's degree from Johns Hopkins University and a master's degree from the University of Dallas.
Sam has 11 years of experience in mortgage banking and has a bachelor's degree from Oklahoma State University.
Call now at 214-444-9750 to talk to Sam or Scott or apply online by clicking on the appropriate button below the photo.
Areas of Expertise
First-Time Homebuyers
Investment Properties
Conventional Loans
FHA Loans
VA Loans
Purchase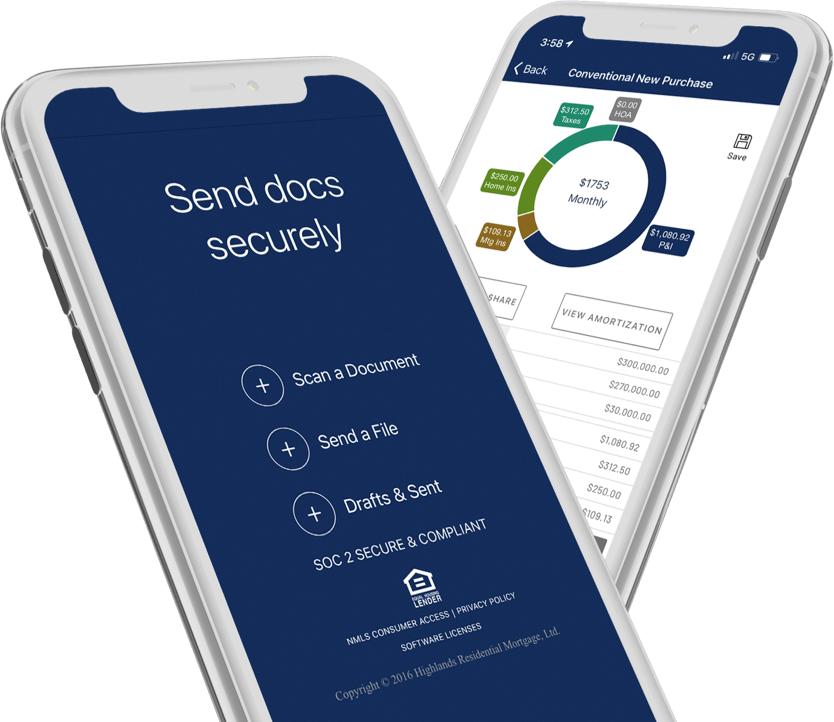 The Highlands Digital Mortgage Experience
The Highlands Residential Mortgage app makes it easy to plan, manage, and learn more about your personal loan process.