 Kuhn Team
Branch Manager/HECM Manager | Loan Officer
NMLS#169902
Anna Kuhn
Loan Officer
NMLS#924978
About Highlands Residential Mortgage
Your Family. Your Future. Our Focus.
Highlands Residential Mortgage was created in 2010 in the midst of uncertainty and rapid change in the mortgage industry. A group of like-minded seasoned veterans came together to create a company with an employee-focused culture. A culture that values its members both personally and professionally and a company built on the idea that the customer comes first! We believe Highlands Residential Mortgage is such a place. Our Mission to value people drives everything we do.
Our Story
Karl Kuhn – Branch Manager/HECM Manager NMLS #169902
Anna Kuhn – Loan Officer NMLS #924978
YOUR FAMILY. YOUR FUTURE. OUR FOCUS.
Karl & Anna are a lending team for Highlands Residential Mortgage in Frisco, TX. Together, they have a combined 30+ years of residential mortgage lending experience.
Karl & Anna are followers of Jesus Christ. They believe in honesty and integrity, with their faith as the driving force in life.
They will provide personal & customized mortgage lending solutions suiting the exact needs of the individual and family – Providing a "Simple & Seamless" lending process – Close on time; EVERY TIME! – Detailed focus on business partnerships to enhance growth and productivity.
They make every effort to be available anytime and strive to assist you throughout the process. Your questions are important and an open line of communication vital!
It is their goal is to be your mortgage lender for life, by being a value-added resource before, during and long after your loan approval process.
Areas of Expertise
First-Time Homebuyers
Investment Properties
Conventional Loans
FHA Loans
VA Loans
Purchase
Have Questions?
Main Contact Form — California Privacy Policy
Contact form for CA privacy policy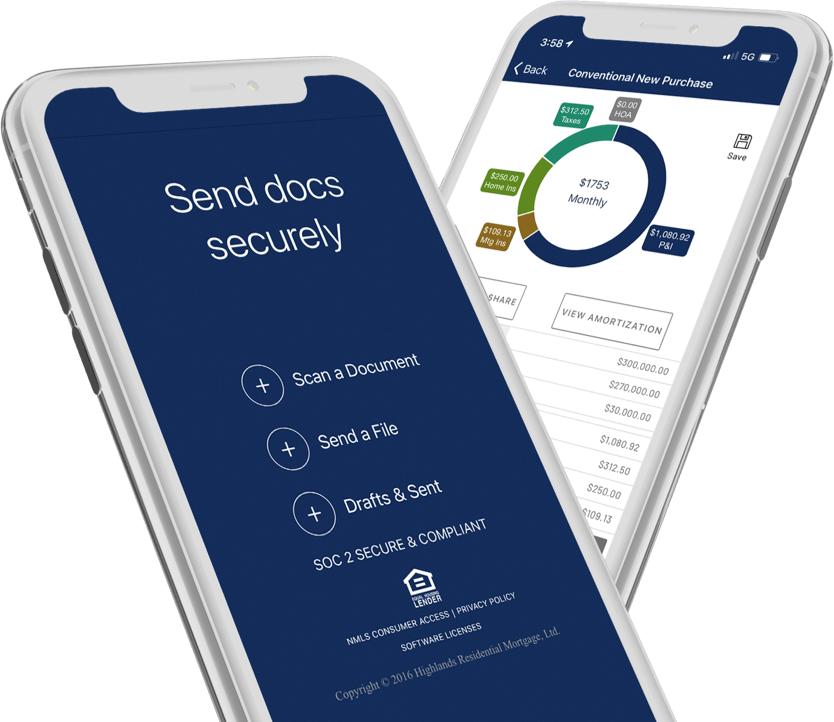 The Highlands Digital Mortgage Experience
The Highlands Residential Mortgage app makes it easy to plan, manage, and learn more about your personal loan process.